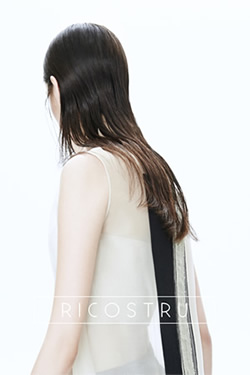 RICOSTRU 品牌介绍
————————————
"RICOSTRU" ,中国设计师品牌,由曾在意大利留学的设计师欧敏捷(RICO MANCHIT AU)于2011年在中国广州创建。
"RICOSTRU"取自意大利文"RICOSTRUZIONE",中文译意为"重建",其意代表了当代年轻人"破"与"立"的独立思想和创造力量。
"RICOSTRU"的品牌风格以精简闻名,用当代的视觉和手法诠释"传统"与"未来"相结合的设计理念,把"空间"的概念融入服装立体剪裁的创作当中,以新颖的
面料开发和工艺研究为实验核心,独特的"剔透色感"审美亦是品牌标志性的设计语言。
"自然、时间、空间",这几个与"回归"概念相关的语言渗透于"RICOSTRU"的故事创作当中,通过对民族元素的探索和对新型技术的追求,"RICOSTRU"冶炼着强调"点、线、面"的碰撞式审美语言,借由抽象的故事传递,使其遗世独立的形象呼之欲出。
所为新晋独立设计师品牌,"RICOSTRU"在国内取得了众多时尚媒体和买手对其作品的认可和支持,并分别在上海与北京设有独立专卖店,在设计风格与市场价值上力趣平衡;"RICOSTRU"亦曾参与米兰时装周的"The Vogue Talent Corner"等国际化的时尚活动,在权威的全球化平台上与各国的优秀独立设计师们同台展示,成为崭露头角的全球新锐设计力量之一。
RICOSTRU
INTRODUCTION
————————————
"RICOSTRU", a Chinese designer brand, was founded in 2011 in Guangzhou, China by RICO MANCHIT AU —whom has study experience in Italy. Coming from an Italian word "RICOSTRUZIONE", which mean by "reconstruction". RICOSTRU represents independent thoughts and creative powers between "breaking" and "building" of the contemporary young generation.
"RICOSTRU" is well known for its minimal style. The combination of "traditional" and "futuristic" makes the brand philosophy. With the contemporary vision, the concept of "space" has been integrated into the geometry tailoring creation. Exploiting high-tech fabrics and developing crafting is the experimental core of the brand. The aestheticism of the unique "translucent color sensation" is also a symbolic design language of "RICOSTRU".
Being relevant to the concept of "returning", the words "nature, time, space", are penetrating into the story creation of "RICOSTRU". Through the pursuing of ethnic elements and being enthusiastic towards new technologies, "RICOSTRU" tells abstract stories in an aesthetical language that emphasizes the collision of points, lines and planes, which helps the brand bring out its artful image.
As a fresh independent designer brand, "RICOSTRU" has earned acknowledgement and support from numerous Chinese fashion media and buyers. By now, there are RICOSTRU boutiques both in Shanghai and Beijing. The brand is dedicated to make balance between its design value and market value.
"RICOSTRU" has been in some international fashion functions such as "The Vogue Talent Corner" in the Milan Fashion Week. Displaying works on such authoritative global platforms with other outstanding independent designers from all over the world makes "RICOSTRU" become a new figure of fashion design in the world.